EFFORT ON THE ENVILONMENT
---
---
Environmental policy
Basic policy
The CRALAY Co., Ltd., while contributing to society with business related to the food and storage logistics, works for the preservation of the local and the global environment, and promotes positive business activities with consideration for the protection of resources.
Behavioral guidelines
1

Inside and outside the country, we will cooperate with measures for environmental improvement, and also comply with environmental laws, regulations, and agreements.

2

In order to reduce the burden on the environment that is caused as a result of corporate activities, we will try saving resources, energy conservation, waste reduction, recycling, proper business disposals, and pollution prevention.

3

We establish specific environmental purposes and goals, and all employees understand this will carry them out with full participation. In addition, we reconsider these purposes and goals on a regular basis and will work to continuously improve the environmental management system.

4

In order to disseminate the environmental policies to all employees, we carry out environment education, and make efforts to be aware of the importance of environmental conservation.

5

We will make an effort to communicate with society by publishing the initiatives on the environment both inside and outside the company.

The CRALAY Co., Ltd. is actively involved in efforts to create an even better environment.
Our cold storage warehouse was the first in Kyushu to receive Green Management Certification, and our Fukuoka Logistics Service Center (Higashi-ku, Fukuoka City), Nishiminato Logistics Service Center (Kokurakita-ku, Kitakyushu City), and Sone Cold storage (Kokuraminami-ku, Kitakyushu City) are currently accredited as well.
Fukuoka Logistics Service Center
(Fukuoka LSC)

Nishiminato Logistics
Service Center
(Nishiminato LSC)





Sone Cold storage
Green Management Certification
---
---
Green Management indicates that business operations have a low environmental load. Business activities actively promote environmental preservation under the awareness that environmental problems are just as important as the pursuit of corporate profits.
We have also installed solar panels on our Fukuoka Logistics Service Center and Kusami Warehouse (Kokuraminami-ku, Kitakyushu City).
We are working toward becoming an environmentally friendly, eco-conscious company.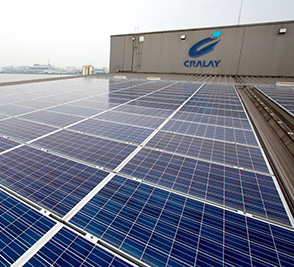 ---
---